MAP Case Studies: The Next Generation of Organizational Assessment Tools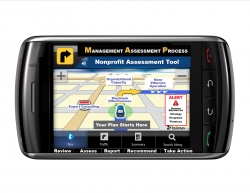 Feast of Justice Case Study Underscores Value of MAP
Friends of Valley Forge Case Study on Capacity-Building Progression
The Management Assessment Process (MAP) is a practical and economical way to gather critical data about your organization and its ability to operate effectively and fulfill its mission.  By identifying key areas that may be hindering function and performance, the organization can then be equipped to address them and progress. It's different from the traditional management assessment tools that just haven't been getting the job done:
MAP is an objective organizational assessment – it's not a self-assessment so there are no agendas, no biases to compromise the project
MAP comes with the support of a Nonprofit Center consultant
MAP is  a short-term, economical process that leaves you with a written roadmap to follow to address your organization's identified weaknesses and build on its strength
MAP is the ideal precursor to a successful, informed strategic planning process.
A Nonprofit Center's experienced consultant uses a proven standardized tool to collect data and then provide objective recommendations that enable your organization to maximize its effectiveness and address deficiencies.  Evaluating your operation at multiple levels — including mission and vision, strategy and planning, program design and evaluation, financial management, human resources, staff and board leadership, fund development, legal affairs and marketing, communication and external relations — our consultant helps you create a roadmap to highlight the identified strengths and address the weaknesses.
If your organization has been wrestling with issues related to performance, operations and systems, MAP can be the ideal starting point, armed with an assessment based on solid data, with the support of an outside expert, your board and staff can have a clearer vision of where it wants to go and how to get there.   MAP differs from other assessment tools because MAP objectively tells you what the data says you are, not what you think you are. For more information on this comprehensive organizational assessment and if it's right for your organization, contact Lori Moffa at [email protected].