Excellence in Fundraising Series
The Excellence in Fundraising Series* is designed for those who are not full-time fundraising professionals, or not formally trained in fundraising, but seek instruction in the basic skills and methods of successful resource development. With its strong grounding in the concepts, trends and practices that guide successful and ethical fundraising, you will become versed in the full processes of this desired skill. The program is also useful for those who assist with fundraising and for executive directors and board members who seek increased confidence and knowledge to support their roles as fundraisers for their causes.
From introductory level courses that emphasize program strategy, management practices and mission, to a progression toward advanced level courses that focus on each of the major fundraising strategies, you will gain knowledge that will enable you to design and execute each activity. The series culminates with the steps to create your own fundraising plan.
I have been able to pursue the Excellence in Fundraising Series and it has been revolutionary.  As a young professional in development, I have learned a variety of skills, but this series has strengthened those, shaped my focus and offered great foundational knowledge of our sector.  I know that when I attend a course I'll leave with ideas, procedures and initiatives that I can take back to my nonprofit and have with me to push my career forward.
-Michael A. Ticzon, Development Operations Manager, Historical Society of Pennsylvania
The Fundraising Series is worth 5.4 Continuing Education Units from The Nonprofit Center, 54 CFRE Points and requires nine full-day courses, listed below:
Building an Individual and Major Gifts Campaign
Creating a Corporate Sponsorship Program
Designing and Implementing a Successful Direct Mail Program
Fundamentals of Fundraising
Guide to Finding and Getting Grants
How to Launch a Legacy Planned Giving Program
How to Love Your  Special Events
School for Stewardship:  How Donation Management and Stewardship Promote Future Fundraising
Your Fundraising Strategy:  Fitting all the Pieces Together for Maximum Impact and Results

Costs:  Package price (requires Membership):  $929
Member rate:  $1,032
Non-Member rate:  $1,431
Get the discount Excellence in Fundraising Series Package Application
Consider these additional E- Learning Opportunities:
Giving Tuesday
Motivating the Millennial Donor
Fire Up Your Board about Fundraising
Donor Retention Strategies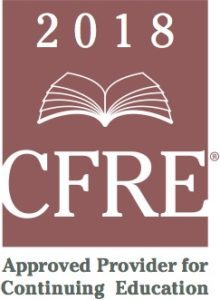 *formerly known as a certificate, the name has changed but the experience, quality and depth of learning has not.