Rosie the Riveter is spinning in her grave.  I'm just spinning.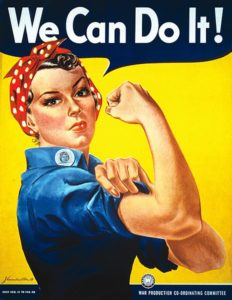 Newsweek's cover story for its March 12 issue was entitled "The Rise of China's Billionaire Tiger Women," written by Yale's own "tiger mom" Amy Chua.  Of the four women featured, three were aided in their rise by their husbands' position, wealth and knowledge.  But I'm truly not taking anything away from them.  Back home, there are certainly American female billionaires, but Newsweek didn't highlight them, preferring to examine America's women's standing in other proficiencies in comparison to those of other countries.  For example:
women's participation in the workforce:  Burundi=#1; US=#60
women's math scores:  Taiwan=#1; US=#31
number of Miss Universe winners:  US=#1
The US ranks 71st in women representatives in legislative bodies:  only 17% of members of the US House of Representatives and the Senate are women.  One article in the issue stated, "Research shows that even women with stellar credentials often lack the confidence to put themselves forward, while men with far inferior qualifications show no such hesitations."  So, it is women's failure to self-promote that holds them back? Is that the message we want to immortalize?
Recent research suggests, perhaps, something else.  Zenger|Folkman, self-described as "at the forefront of leadership training programs" for the great big companies, recently took a look at 7,280 corporate leaders who had completed their "Extraordinary Leader 360 assessment."  Of this sample, 64% (4,651) are male, 36% female; 64% are managers and executives in the US, while the remainder comes from all over the world; and 78% of the males hold top management/executive/senior team member positions, while only 22% of the females do.
Overall, these women leaders were rated significantly—and for you statisticians reading this, we are talking statistically significant (and for you non-statisticians, this means that the differences noted did not happen by chance)—more positively in their leadership effectiveness than were males, as measured on a 49 item index.  Additionally, this dominance held in 12 out of 15 organizational function areas, such as sales, operations, finance and accounting, product development, engineering, IT, and more.  The three functional areas in which males were ranked more positively as leaders were customer services, facilities management and maintenance and administrative/clerical.  Further, on 12 of 16 competencies, such as "takes initiative," "drives for results," "solves problems and analyzes issues," and "inspires and motivates others," women were again rated significantly more positively than men by everyone:  mangers, peers, direct reports, and others.  In only one are of competency, "develops strategic perspective," were males rated significantly more positively than females.  (For the three remaining areas of competency, there was no significant difference between the two groups.)
So, women make good, strong, capable, trusted, and respected leaders.  And yet, according to the 2009 "White House Project Report:  Benchmarking Women's Leadership," academia had the highest percentage of women leaders at a mere 23%, followed closely by journalism (22%), nonprofits (21%) and sports (21%), with an average across all sectors of 18%.
Findings on the women leaders working in the nonprofit sector are of particular interest here.  Despite the fact that consistently, estimates place the nonprofit workforce at 66%-75% female (the White House report says 73%), the report found:
only 45% of nonprofits are headed by women; this number shrinks to 21% when an organization's budget reaches $25 million or more;
men continue to hold the majority of senior leadership positions and continue to receive greater salaries than women;
specifically, in 2009, female heads of nonprofits earned only $.66 to their male peers' $1.00, actually down from that 2000 statistic of $.71 to his dollar; and
women make up 43% of all nonprofit board members, but sit in only 33% of the board seats at nonprofits with budgets of $25 million or more.
None of these data points were new in 2009; that's the sad part.  These disparities have been well known for quite some time.  But what we have today (by which I mean in the last 30 years or so) is a growing body of solid research on which to move change forward, yet it has not happened.  Ever expanding research tells us that women are capable, exceptional leaders, even better than men in the fast majority of skills needed to be that great and greatly respected leader; reality says no one is paying any attention to the evidence.
The Bank of America Merrill Lynch 2011 study of "High Net Worth Women's Philanthropy" found that in almost 90% of high net worth households, women on their own or with an equal partner make the philanthropic decisions.  In addition, they spend more time doing due diligence than men, more likely to have an annual giving strategic, seek to be more involved, and are more likely to assess their giving each year rather than just keep on giving to the same 'ole, same 'ole.  They are actively engaged leaders in this segment of their lives as well.
It is time for the nonprofit sector to wake up and embrace its female (not feminine) side, and to do this from top to bottom on the organizational chart and regardless of mission, operating budget, total assets, age, whatever.  We claim to worry so about not wasting our financial assets.  Why are we so willing to waste our female human resource assets?
The opinions expressed in Nonprofit University Blog are those of writer and do not necessarily reflect the opinion of La Salle University or any other institution or individual.