Recent data continues to put the nonprofit sector as the third largest employer in America, behind retail and manufacturing. That ranking hasn't changed over the past several decades, despite the continued growth of the nonprofit sector and the regular closings, reorganizations and other disruptions in retail and manufacturing. In fact, it would appear that a lot, though by no means all of retail, does a wonderful job of reinventing itself.
.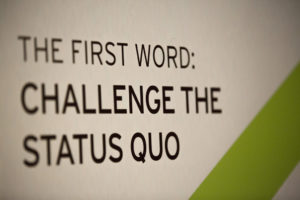 Amazon started in 1994, Ebay in 1995. Moving along, we got Bonobos in 2007, Stitch Fix in 2011 and Rocksbox in 2012. Sears, on the other hand, started in 1893, Nordstrom in 1901 and Toys R Us in 1957. Many pundits believe Sears will file for bankruptcy in 2018. Analysts seem to agree that it was providing a "mediocre retail experience," and not Amazon, that forced Toys R Us into its current state of bankruptcy. What worked for its shoppers back 20 and 30 years ago isn't working today, but either failing to notice or noticing and failing to do anything, Toys R Us didn't change. Ergo, bankruptcy. Nordstrom, however, is changing things up, and this almost 120 year old institution is adapting a page out of the new book that says retailers don't have to have inventory on site (Nordstrom Local)—they just have to provide a great experience.
Thinking about the experience nonprofits offer their clients, I'm not sure "great" is an adjective that is frequently used. Nor is "innovative." And while there are many things that threaten the existence and viability of nonprofits—from increasing competition for all kinds of resources to greater duplication of services and unwillingness to ask the big question (Is our mission still needed?)—stagnation is a big, lurking predator that too few are willing to confront. Too many nonprofits seem willing to settle for the status quo, especially if moving on from the status quo involves work. And when would that not be the case?
A former executive director recently told me the story of his "separation" from the organization he previously led. For well over a year, he, with the Board's blessing, had been working on developing three growth strategies for the organization that was bursting at the seams, with opportunities to even do more. He had every single possible duck in order and presented four alternative, fully scoped out and vetted options to the board (including not just staff buy in, but staff excitement for three of the four options).
When the board learned that the status quo was an option, that's the door it picked. The former executive director pointed out all of the negatives of that option, not the least of which were many more financial unknowns, the board "separated" from the executive director almost overnight. While the status quo provides an option that has worked up until a few years ago, it is no longer an exciting option going forward. It is, in fact, a mediocre option, maybe even to the board.
Sadly, neither this executive director's story nor this board's story is unique. While it is absolutely true that there are many executive directors who are equal fans of the status quo as there are board members, it is also true that there are many times when we find one side of that partnership ready and willing to go the disruptive route, to try something different in order to create a great experience (and, in our sector, an equally great outcome), to take the calculated risk and create some bold new paradigm.
More often than not, however, it is the executive director trying to pull (or is it push?) the board forward into what must be the new reality if the organization wants to survive. (We won't even talk about the organization's viability). And more often than not, when what the executive director is laying out is going to require real work on the part of the board—work like serious fundraising a board will resist.
To be fair, often that new path will require not just money, but new money, money that can't be gotten from the tried and true funding sources as they, too, often are stuck in their ruts, in their status quo. Too often when even good ideas require board members to roll up their sleeves and do some real work, it ends up with a separation of the executive director from the organization. And the board and the organization remain at status quo.
While I could easily count the ways a board can kill an organization, to send it the way of Toys R Us, Sears and the 7 "major" retailers identified by Retail Dive as filing for bankruptcy in just the first five months of this year (think Rockport, Nine West, Claire's, among others), the firing of a pushy (their thinking, not mine), creative executive director who wants a new and better path forward may be the fastest way. You can bet the next executive director won't dare to think about creating a better, greater client experience.
The opinions expressed in Nonprofit University Blog are those of writer and do not necessarily reflect the opinion of La Salle University or any other institution or individual.