As we approach the last quarter of the year, the three months when, historically, more dollars come to nonprofits than any other three month period, I'm often asked by reporters and regular folk how to determine if a nonprofit is "donation-worthy."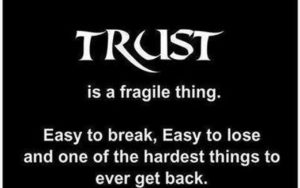 Unfortunately, our job at proving our worthiness got harder last year, as trust in nonprofits continued to drop.  According to Edelman's annual Trust Barometer (which was released the beginning of this year), people from around the world are losing trust in government, for-profits, nonprofits, and the media.  In the United States, trust in all of these organizations dropped to 43%.  Looking at all adults 18 years and older, trust in nonprofits lost 9 points from 2017 to 2018, down to 49%.
Looking at what the study refers to as "the informed public"—a rather elite group, aged 25-64, college-educated, high consumers news and in the top 25% of household incomes—trust in nonprofits dropped by 22, to 51%.  And while nonprofits fared higher on the trust factor than the three others types of businesses, they are not as dependent on the trust factor for their income as are nonprofits.  Tarnish our trust factor, you tarnish our "donation-worthiness" factor.
There is, however, some hope.  A recent study by Cause and Social Influence of 1100 Americans across the country, between the ages of 18 and 30, asked them, among other things, "Who do you trust?"  In rank order, the first choice was themselves and "people like them."  The second most frequent response—and here is the good news—was nonprofits.  [For comparison, for-profits were trusted the least (ranked 6th), preceded by local government (4th) and federal government (5th).]
And this trust apparently leads to action:  once made aware by the media (the first influencer for them) of an issue of interest, these young Americans are likely to take action when asked by a nonprofit (the second influencer).  Nonprofits must capitalize on this trust, and solidify it now to try and ensure future support.
Unfortunately, however, the good news seems in short supply as we approach this last quarter.  As many of us have warned, and this warning was going out for many years prior to last year's changed to the tax law, most nonprofits should not be fooled—or rest easy—by Giving USA's reporting on continued growth in overall giving by individuals.
While the total dollars given have continued to increase, much of that growth is fueled by mega gifts, which, sadly, the vast majority of the 1.6 million nonprofits do not receive.  Looking at data from the most recent Philanthropy Panel Study (2001-2015), the number of households that give has dropped from 66.2% in 2001 to 55.2% for all giving in 2014 (the last year for which the Lilly School has data); the drop is more pronounced for giving to religious institutions (46.5% to 34%), but not as pronounced for "all secular giving" (55.2% to 47.1%).  Adding to this, the amount of giving has been erratic over this fourteen year period:  but, overall giving is down an average of $62, all secular giving is up almost $70 and religious giving is up almost $200.
Do the math:  number of households giving is decreasing, giving is sort of up, so fewer household are giving more money.  Executive Dean of the Lilly Family School of Philanthropy Patrick Rooney points out that the percentage of households with adjusted gross income of more than $1 million grew from 10.3% in 1993 to 29.8% in 2015, a near tripling in households, and concludes that these $1 million plus households are contributing more in absolute dollars than ever before.
If we combine all these data points, nonprofits best be working extra hard to have a great final quarter.  We still don't know the impact of the new tax law; but we do know that overall giving continues to be increasing and the overall percentage of all households that give to charities has been declining, while the percentage of wealthy (more than $1 million) households that give has been greatly increasing.  Bigger gifts, fewer donors.  And all while trust in our sector declines.
The opinions expressed in Nonprofit University Blog are those of writer and do not necessarily reflect the opinion of La Salle University or any other institution or individual.