We all know the saying "money doesn't buy happiness." It's time that nonprofits understand that money also doesn't buy doing things right.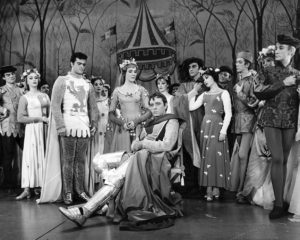 In the second half of last year, Marks Paneth, a New York City accounting firm, conducted a survey of 114 leaders—executive directors, board members and CFOs—from nonprofits with budgets between $10 million and $200 million.
In other words, not your average nonprofits.  They are, in fact the 1.5 percenters—those nonprofits with revenue of $10 million or more.*  Nevertheless, we should all take of what the big guys are doing—doing well and not so well—and then move on to work to do better.  We cannot afford to use a lack of money as an excuse for not doing what we must do to survive as healthy, strong nonprofits.
There are some very interesting equally surprising findings in this research.  Starting with the big one: barely more than half (53%) of these organizations have a succession plan for their top leader.  This is startling, as they have none of the excuses that so many of the smaller guys give.  Excuses like we have no bench, so we have no possibility of bench strength, so why bother with succession planning; we are so busy doing the work of the mission, that we—neither staff nor board (the latter of which should be doing the succession plan for the ED)—don't have time or surplus resources of any kind to engage in succession planning.  They do, however, share a common behavior with their less wealthy nonprofits:  heads in the sand.
But kudos to some of the big guys, as 36% do have a succession plan for their CFO, and 28% have a plan for their development directors.  (Given the data on turnover of development directors, the latter is an especially important one to have).  Given that 39% predict there will be "moderate to significant merger activity" in their mission area, some of the unprepared 47% may be counting on mergers as their succession plan.
Sadly, 66% of these same nonprofits, all of which will need future leaders, are struggling to keep good, "young" employees.  The number one reason, cited by 49%:  insufficient pay.  Equal amounts (15%) blame competition from other nonprofits and from the private sector.  Interestingly, the private sector's greatest challenges to retaining young employees is company culture and "exciting opportunities elsewhere."  If money is the biggest handicap for the largest employees as they fight to keep the best and the brightest, the rest of us best make sure that our mission commitment is clear and strong, our organizational culture is supportive and desired and our low-cost/no-cost benefits are well stocked.
The data collected on fundraising was really intriguing.  A slight majority (52%) of these big organizations actually like galas and see them as having benefit.  Almost equal numbers reported that galas were good fundraising events (25%) as they raised funds, but were really about donor engagement (27%).  Yet, 10% are questioning the value of such events because of the amount of staff time involved, and 26% don't do them at all.  Regardless of your thoughts on galas, there are lessons here that the rest of the sector should consider carefully.
It's very interesting to see how these senior leaders view digital fundraising.  These leaders are not very thrilled by the effectiveness of digital fundraising versus the traditional, direct mail solicitations.  While only 3% of respondents indicated that digital fundraising was a very effective "replacement" for paper letters, 4% said the former was not at all effective.  An additional 35% said digital fundraising was not a "particularly effective" replacement, while 43% crowned it only "somewhat effective."  Overall, not a ringing endorsement.  Add to this the outcome that 82% are worried that digital communication, itself not seen as terribly effective in communicating with supporters, may, in fact, be having a deleterious impact on the effectiveness of the traditional methods they are using to connect with donors.   And then there is this even more curious twist:  respondents see positive opportunities for their organization with the digital fundraising tool of crowdfunding!  Currently, only 10% of respondent organizations are using external crowdfunding sites, but an additional 25% plan on doing so; and 59% note that crowdfunding strategies will rub off on them and organizations like them.
Finally, when it comes to fundraising, it would appear these organizations are just as myopic in planning for the next generation of donors and stewards as they are when planning for the succession of their paid leadership.  Only 21% of these organizations have a young professionals group under any name, thought 27% say they are in the process of forming one.  As with executive transition planning, you cannot wait until the need is upon you to figure out from where your next generations of donors will come.  You need to start now.
Perhaps the most captivating finding of this whole research, though, was executives' attitudes about social return on investment (SROI).  More than half (53%) say that they can report on "definitive SROI" from their organizations' work within one year of receiving donors' funds.  That might just be miraculous!  An additional 14% say it is very possible, while 39% say it is only "somewhat possible."
As an evaluator, I find the certainty of being able to discern social impact in the space of a year nothing less than amazing, as social impact, if defined well, is a combination of outcomes, any one of which takes time to see if it is here to stay or a flash in the pan.  The good news here, though, is that 19% of respondents say donors are allowing them to spend a portion (though there was no indication of how much that amounts to) of the donation on the costs of evaluating SROI.  This is doubly good news, actually, as almost half (47%) noted a greater difficulty in raising funds in this era of needing to prove SROI.
There is a wonderful song in Camelot, "What do the Simple Folk Do?," sung by King Arthur and Queen Guinevere as they ponder what common people do when they are blue and wish to "shed their weary lot."  They conclude, in the end, that the simple folk sit around and wonder what royal folk do.  Well, "common" nonprofits, wonder no more what the "royal" nonprofits do when it comes to several hot topics of today.
* National Center for Charitable Statistics, February 2016
The opinions expressed in Nonprofit University Blog are those of writer and do not necessarily reflect the opinion of La Salle University or any other institution or individual.