Online Education Guide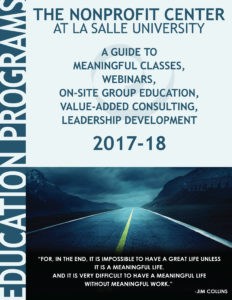 Get descriptions, instructor information, dates and locations of all our classes and more in our 2017-18 Education Guide>>
Register now for any of our classes >
Please note:  If you do not receive an email confirmation, you are not registered.  If you have any questions, please call 215-991-3676.
"…Each and every time I attend an opportunity presented by The Nonprofit Center, I walk away feeling empowered and more knowledgeable…that it was well-worth the time away from the office."
-Emily Simmons, Development Director, Colonial Theatre
Look for new programs like the "Good Start" series for new executive directors and newly appointed supervisors, multiple e-learning opportunities, as well as the fundamental skills that every nonprofit professional needs.  Our special bundle deals offer added savings too.
Earning a Certificate from The Nonprofit in a nonprofit skill set will give you a comprehensive academic experience in nonprofit management, fundraising or marketing and communications, as well as credentials, CEUs from the highly regarded Nonprofit Center at La Salle University.
If your role, or aspirations, cover a wide range of responsibilities, consider a Build-Your-Own customized certificate where we work with you to create a curriculum that best suits you and your individual needs and interests.
For more information on our educational programs, contact Rob Fennell, 215-991-3676.
The Nonprofit Center can bring any of its classes – virtual or in person – to your organization, foundation or association, delivering a personalized on-site educational experience for multiple people who need the same skill.  For more information about on-site training, contact Terri Clark, 215-951-5194.