Northampton Community College & The Nonprofit Center Partner on Certificate in Nonprofit Management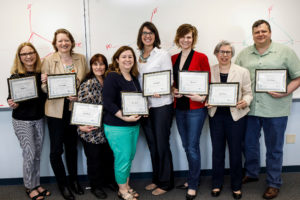 Congratulations to our NCC Certificate Graduates in 2017
Nine students in the inaugural year of classes at NCC earned Certificates in Nonprofit Management (l to r):  Annette Savo, Lisa Campbell, Joyce Cerniglia, Nancy Hooke, Sarah Jacobi, Amy Leiser, Joan Marcus, Mark Mitman, not shown Lisa Walkiewicz).

2018 Graduates:  Terry Schettini, Sarah Barrett, Michael Spinks, Lenore Pitsilos, Chris Armstrong, Kari Kayock, Cara Garofalo, Carinne Buzzato, Mark Syncoll, Kent Beers, Julie Dumas, Kate Cassidy, Mike Piersa and Irmin Giles 

Following our continued success,  Northampton Community College and The Nonprofit Center partner again offer a Certificate in Nonprofit Management in the Lehigh Valley.
As the result of this well-received partnership, residents of the Lehigh Valley have convenient access to 10 full-day classes that provide knowledge and information essential to nonprofit staff and board members.  The Certificate in Nonprofit Management, a non-degreed professional development program, will relaunch in September at NCC's Bethlehem Southside campus, within the Center for Business and Industry.
"For the past 35 years, employees and board members from Lehigh Valley nonprofits, as well as those interested in pursuing careers in our growing nonprofit community, have had to travel to Philadelphia to take advantage of the top tier educational opportunities The Nonprofit Center offers," said Lauren Loeffler, NCC's vice president of community education.  "We are pleased that we can now make these programs available here and at a reasonable cost," she added.  Dr. Laura Otten, director of The Nonprofit Center, said, "As we explored this potential partnership, we found great synchronicity between our two organizations.
The Nonprofit Center offers more than 60 educational programs in the Greater Philadelphia area every year.  "NCC and The Nonprofit Center are well matched in that we both insist upon small class size for maximum interaction and learning opportunities, we're both committed to making our programs accessible to our audiences, and we are both committed to professional development," Otten continued.
Classes will be taught by the same professional instructors who teach in Philadelphia, using the identical curriculum.  Topics include the fundamentals of nonprofit management, effective board governance, marketing, communications skills, program evaluation, financial management, fundraising, human resources, strategic planning, and leadership ability.   Students will earn 60 Continuing Education Units, the recognized measure used to provide evidence of completion of continuing education requirements mandated by various professional bodies and licensing boards, as well as evidence of completion of training pertinent to particular occupations.  Certificates from The Nonprofit Center have become a coveted credential for nonprofit professionals.
The courses will be offered at Northampton's Fowler Family Southside Center at 511 E. 3rd St. in Bethlehem.  To register, go to NCC's website or call 610-332-8678.
"I took the Certificate Program because it touched on every aspect of the nonprofit environment and provided up-to-date information that I will use at my current position…"
-Joyce E. Cerniglia, Executive Director for Finance & Administration
First Presbyterian Church, Allentown, Certificate recipient

2017-18 Schedule for Nonprofit Management Certificate at NCC:


Nonprofit Management 101 – 9/28/17
Keys to Successful Strategic Planning – 10/19/17
Building a Successful Marketing Program – 11/9/17
Fundamentals of Finance – 12/7/17
Fundamentals of Human Resources – 1/25/18
Evaluating the Impact of Your Programs – 2/22/18
Effective Nonprofit Governance: How Boards Should Work – 5/3/18
Fundamentals of Successful Fundraising – 4/18/18
What Makes a Superior Leader? Creating and Mastering a Successful Leadership Style – 5/17/18
Effective Communications to Build Relationships, Engagement & Understanding – 6/14/18

Check out the schedule for Fall 2018-19

The Certificate in Nonprofit Management at Northampton Community College is made possible through the generous support of :


Visit them at kmco.com