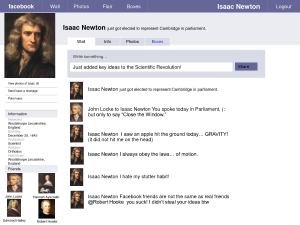 Will social media help or hurt us in the end?  The answer to such a ridiculously broad question is, of course, we don't yet know, only time will tell, the jury is still out on that, and more of the same.  Nevertheless, the question deserves serious contemplation, yet seems to receive very little.
Social media itself receives all kinds of attention.  A day does not go by that I don't receive at least one solicitation in my in-box to attend a webinar, workshop, gathering, etc., on social media:   how to maximize its use, how to woo donors, how to use it to deepen brand awareness, etc.  And, in turn, folks flock to them.  But, offer a workshop or webinar on basic fundamentals of good management, operations or governance, and getting a flutter of responses, rather than a flurry, may be a challenge.
This is not a dis on social media.  This is a challenge to stop and think things through.  I remember years ago when one of the first satellites that we sent into space was falling to earth.  Experts were panicked about its reentry:  where would it land? a desert or urban area? what was the potential damage?   I was incensed at our seeming stupidity, that our scientists and powers that be had run to embrace this great opportunity without thinking things through all the way to its logical end.  As far as I know, Newton's law of gravity still held:  that which went up, had to come down.  The only question was would we control it or would it control us?  How could folks not have thought about the eventual return to earth of this unmanned object?  I guess the answer is, they just did!  The excitement of the possibilities overcame the rationality of control.
I am at that place again:   excitement over what social media could do for fundraising seems to have overcome the reality of what this might mean.  Let's look at the good.
Kickstarter, one of the many on-line crowdraising sites claims that "Since our launch on April 28, 2009, over $486 million has been pledged by more than 3.4 million people, funding more than 36,000 creative projects.  (Only 11% of projects have never received a single pledge.)"  Very impressive!
Indigogo, another crowdsourcing site reports the following:  "Campaigns appear to have garnered more support in 2012, raising an average of 20% more than projects did in 2011. Successful campaigns took an average of 11 days to prepare for their launches. The most successful campaign, 'Let's Build a Goddamn Tesla Museum,' raised an Indiegogo record of $1,370,461 in total."  This cottage  industry of crowdsourcing has become a niche market.  As just one example, #scifund is a crowdfunding site just for scientific researchers.
In addition to sites where we can take a specific project directly to all donors with web access, another cottage industry has sprung up:  sites that help nonprofits market themselves.   Marion Ruthig, a CPA who worked with many nonprofits and a mother in Naperville, IL (the 11th wealthiest city in the country) wanted to be sure her children understood the importance of giving back, started I Support Community.  Started just last year, the "Netflix of nonprofit videos," as Ruthig describes it, I Support Community connects potential donors and volunteers with nonprofits through video storytelling posted on its website.  A few years older, Generocity, in Philadelphia, is a web-based information center featuring articles, videos, resources, and more, to help those in the Delaware Valley "stay informed, get connected and get involved" with nonprofits in the region.  And these are but two examples of others helping to market nonprofits that may or may not have the capacity to do it on their own.
All of this is wonderful.  There are many out there who will tell you nonprofits need all of the help they can get recruiting volunteers, finding donors, gaining awareness.  And standing out from the crowd.  And therein lies the rub.
That brings us to the bad – the downside of social media:  the proliferation of these sites and opportunities increases the competition.  Nonprofits are no longer just competing with the 1.6 nonprofits, they are competing with individuals as well, as many of the crowdsourcing sites don't restrict requests for funding to just organizations, or even nonprofits.  Individuals with a compelling cause may pitch their stories, too, right along side the request for a new roof for the homeless shelter or a new library for the afterschool program or the new poetry festival.
Every nonprofit can now be viewed by the exact same population of donors as their peers, collaborators and competitors.  And while we know philanthropists have their favorite causes and missions, these sites expose philanthropists to options they otherwise never would have known existed.  Now, that philanthropist sitting in the most remote of areas surfing the web can fund 10 miles from her home, 100 miles, around the country, or around the globe.  Donors are no longer limited to their own physical reach and experiences.  And while this is wonderful for many nonprofits, on the one hand, it may just be the ringing of the death knoll for many others.
Is there a place for the small nonprofit or the one without the compelling stories that stop you in your tracks in the Internet economy?
Read this interesting article about local crowdfunding and a foundation's using it to leverage other funding?
The opinions expressed in Nonprofit University Blog are those of writer and do not necessarily reflect the opinion of La Salle University or any other institution or individual.