You don't have to be a basketball fan to be rocked by the news of Kobe Bryant's sudden and untimely death.  I remember exactly where my son, his friend and I were standing when we saw Kobe, seated on the back of the convertible, in the parade celebrating his high school team winning the state championship.  Yes, he had then his wonderful smile, and it was emblazoned on his face.  And, yes, he shook things up in the community when he brought Brandy to his high school prom.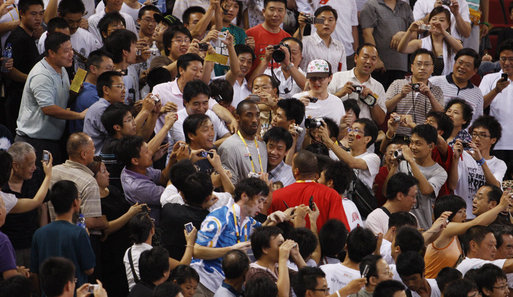 However, none of that is why I care so much. In a world where heroes are seeming on the brink of extinction, Kobe is a hard one to lose. Yes, he was flawed, but that is part of being human; part of being a good human is recognizing your flaws and moving forward correcting them. He did that.
Try to think of another sports figure whose death would deliver such a sucker punch to people around the globe as Kobe's death has. Part of the pain, without a doubt, is that he was young. But a big part of the pain was the loss of the man, what he brought and meant to individuals, both on and off the court. Kobe was a hero to so many, so many of all walks of life, skin colors, ages, nationalities, etc. And he is gone, way too soon, along with years of his potential goodness.
I've always thought of the nonprofit sector as society's hero. Yet, when I compare our sector now with Kobe, we don't measure up. An oft-made comment about Kobe was that he genuinely cared about people. While people he met always wanted to talk about him, he wanted to get to know those people—genuinely and earnestly. Our sector is intended to care about people, to improve the quality of life for everyone. But when a nonprofit self-perpetuates in order to ensure employment for its staff or because board members don't want to be the ones to shut it down "on their watch," rather than focus on whether they are still effectively meeting a societal need.
When a nonprofit continues to provide programs without having hard data to know whether the program is delivering to its clients its promised outcomes, it is not caring for others. When a board fails to do its job, regardless of whether that failure is out of ignorance as to what the job is, or out of laziness, it is not caring about others. When any of this happens, we aren't being Kobe.
After his final game in 2016, where he had scored 60 points, he was asked how he wanted to be remembered. He said he wanted to be remembered as incredibly gifted and great because of how hard he worked to get every ounce of his greatness out there.
That could be read and heard as bravado, or it could be read as Kobe intended it, as someone wanting to make sure that he did as much as he possibly could at the highest level possible with what he had been given. Not only did he not want to squander his acknowledged gifts, he wanted to improve upon them to maximize that greatness.
Again, our sector doesn't currently measure up. As I've noted in previous posts, too many nonprofits are satisfied with "good enough." Too many are focused on being bigger, having bought into the American sentiment that bigger is always better. But, alas, with much of the work of nonprofits, bigger can be ruinous, taking us away from the source of our clients, their lives, their needs, their wants. And, too often, taking away from the quality of the services provided. Too many are focused on maintaining the status quo within their organizations for no reason other than it is easier to do the same than to innovate and learn "new." While this may be easier for staff and board, it is not maximizing the return on raised funds, the gifts (some) staff and board members may be bringing to the arena. Profligate is not being Kobe.
One of the most consistent comments heard in the recent outpouring or tributes was that Kobe inspired people. He inspired them to want to play basketball, to work hard, to be their best.
I've just come off my worst week of teaching in the spring semester; sadly, it happens every spring, along with a parallel week in the fall semester. During this week, each student must pick three mission statements and evaluate their "goodness."
This means I have to read those mission statements as well. With few exceptions, semester after semester, these mission statements are awful. So many fail to make too many of the points a good mission statement should. One of the common misses, however, shared by too many of these and other mission statements is that they fail to inspire people to action, to galvanize them, to motivate people to want to do something. Something that should be so easy is missed, again and again. So not Kobe.
I don't know whether Kobe set out to be a hero, but he certainly became one. Once there, he kept that status pretty well polished, despite, or perhaps because, of a major failing early on.  I still believe that we are the hero sector, but perhaps with the exception of our own missteps, we don't measure up to Kobe.
The opinions expressed in Nonprofit University Blog are those of writer and do not necessarily reflect the opinion of La Salle University or any other institution or individual.