Membership Types

Levels of Membership
The Nonprofit Center offers two levels of benefits and savings to meet your organization's goals for professional development, with fees based on your annual operating budget. Individuals not affiliated with a nonprofit can also take advantage of a special Membership program designed for them. All benefits must be used within the 12-month membership period.
Basic Membership includes:
Savings of up to 20% on all Nonprofit Center educational workshops and training programs so you can stretch your limited professional development dollars while offering your entire staff, board and volunteers valuable learning opportunities that will serve your organization
Additional savings with Member-only exclusive access to our Buy 5/Get 1 Free course offer
Free 60-minute Consultation with a Nonprofit Center expert on the subject of your choice, from communications to fund-raising, to human resources, to board development
Initial grant-seeking advice to help you identify foundation prospects
Savings on publications, services and memberships useful to all nonprofits
2 free admissions annually to our popular Panel Discussions where you can get up close and personal with the decision-makers at prominent foundations, media representatives and other key opinion leaders.
MemberPlus includes all the benefits of Basic Membership PLUS:
If your organization is considering a consulting project, such as strategic planning, a capital campaign, or leadership transition, your first step in that process should be becoming a MemberPlus of The Nonprofit Center.
If your board of directors could benefit from a specialized on-site training to enhance its performance and experience, your first step should be becoming a MemberPlus member of The Nonprofit Center.
Here's why…
Free "Achieving Board Excellence Through Best Practices" Board Development Program conducted on-site for your board of directors – valued at more than $1,800 – with advanced programs available for renewing organizations. Read more about you can transform your board for free 
Advanced Board Programs for renewing MemberPlus organizations to enhance board fundraising, recruitment, finances, succession planning and more
Savings on all consulting projects and on-site group education
Free professional review of two grant proposals
Individual Membership for those interested in the nonprofit sector but not currently employed by a specific organization, includes:
Savings on all Nonprofit Center programs
Connection to our broad network of nonprofit organizations throughout the region
Access to our members-only Buy 5/Get 1 Free course offer
2 free admissions to Panels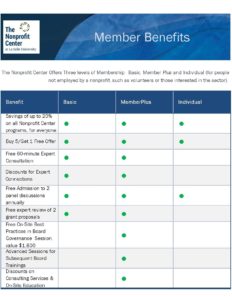 Get this Benefits Comparison Chart
"My organization is a recent member of The Nonprofit Center and we are very pleased with the quality of the services provided and the courses offered.  It is an acre of diamonds for our area!"
-Debbie Zlotnick, Fundraising Manager, Federation Housing
Get the MEMBERSHIP FLYER