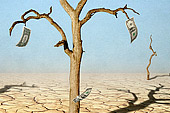 Recently, I spoke with a woman who helps the wealthy do good with their money.  She's concerned by the fact that no one is paying attention to the implications of the massive wealth that is going to change hands over the next several decades.  Yes, people are talking about the unprecedented $41 trillion figure.  And, yes, nonprofits are talking about how they might get a share of that money.  But people aren't talking about how that portion of the $41 trillion that will go for charitable giving will actually impact charitable giving.  And we should.  Particularly when it stays in the family.
According to 2010 data from the Council on Foundations, family foundations make up 56% of independent foundations in the United States (that's 56% of just under 77,000 foundations in total, the bulk of which are independent foundations, meaning they aren't operating, community or corporate foundations) and account for about 63% of total giving from these same independent foundations.  That is $20.6 billion in giving.  By the very nature of family foundations, decisions as to where and how to give are decided, for the most part, by—yup, the family.  Boards tend to be heavily populated,—if not completely, by family members.
When there is a matriarch, patriarch or both at the helm of a family foundation, giving generally reflects their personal philanthropic interests and processes.  It appears that many founders of family foundations give based totally on personal relationships, paying less to no attention to organizational impact, reach, sustainability, etc.  A calculated giving strategy is, more often than not, non-existent.   There is no value judgment here; just observation.  This is a 100% feel-good approach to philanthropy:  little attention, if any, is paid to getting any other kind of return.
Move to the next generation of the family, however, and things change.  We've already begun to see this with some of the older family foundations—albeit, the smaller share of family foundations, as more than 75% of family foundations have been started in the last 23 years.   Not surprisingly, giving focus shifts:  mom and dad may have liked the arts and formal education; children may like environment, animals and out-of-school programs that serve youth.
Some second generations may continue mom's and dad's giving priorities; others may not.  And how giving decisions are made are likely to change dramatically.  Anecdotally, I know of a good number of second generation family members perturbed by non-strategic giving practices, who wouldn't think of giving to an organization unless there were clear and valid indicators of true impact and a sustainable organization.   And, giving anecdotal particulars to a Foundation Center report that shows a direct correlation between the age of a family foundation and the size of the board, the expansion frequently comes by second generations adding non-family members to the board.   All of this will influence the face of philanthropy.
Nonprofits better start preparing for this shift.  It may come gradually—or not.  Yet it is one more argument for why having as diversified a fund development strategy as possible must be the operating rule.  It is one more argument for why having relationships—and not just a hand out—with funders is the way it must be.  It is one more reason why nonprofits must be aware of the larger environment in which they are working and not just keep tabs on that which is already on their radar.
The opinions expressed in Nonprofit University Blog are those of writer and do not necessarily reflect the opinion of La Salle University or any other institution or individual.