Consulting
Value Added Consulting:  97% of Clients would use The Nonprofit Center again and recommend it to others.  Find out why.
When you hire a consulting firm, you get an individual consultant.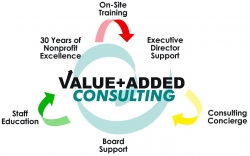 When you hire The Nonprofit Center, you get The Nonprofit Center. The result:  A whole that's even greater than the sum of its parts, with the client as beneficiary – provided by a consulting practice that  works exclusively with nonprofits.  As a nonprofit ourselves, we understand and value our shared culture and appreciate the unique challenges.   We are value and value-added.
Underpinning every consulting project we do is:
·         More than 30 years of experience in every aspect of nonprofit operations, strategic planning, governance and management
.         Nearly 2,000 nonprofit consulting projects completed for organizations of every size and mission
.         Knowing what the project will cost at the outset so there are no unpleasant surprises at the end
·         Project management by The Nonprofit Center's consulting staff that's as much about the process as the product
·         Access to the services that ensure long-term success of your project including programs designed specifically for your board
·         Group Training opportunities that provide consistency in the expertise of your staff, delivered on-site on your schedule
·         The commitment to building the capabilities of your organization
.         More than 60 educational programs to select from each year –  each consulting project includes attendance at a full-day class
·         Built-in implementation in all planning projects to assure that you get a plan you'll really use
·         Specific supports for the Executive Director and the Board, including coaching, succession planning and more.
What you won't get is a quick fix, that really isn't a fix at all, but merely a band-aid by someone whose just passing through, masking the real issues.  So you won't be back a year or so later still wrestling with the same stubborn problems that were never properly addressed.
That's the value-added plus of working with The Nonprofit Center and no single consultant  can give you that.  It's up to you whether you want the experience of one, or the experience of many that you get when you work with The Nonprofit Center.  With a 97% client satisfaction rating, we're pretty sure we know the answer.
Learn more about Expert Connections, our expert assistance package to answer your questions and get advice when you need it.
To speak with our Director of Consulting, contact Lori Moffa at  
215-951-1709 or email moffa@lasalle.edu 
See the experience of the Food Bank of South Jersey >
 "The Montgomery County Foundation, Inc. has been pleased to be able to work with The Nonprofit Center, with its impressive staff and slate of colleagues and consultants. The Nonprofit Center's exceptional expertise and excellence indeed sets the "gold standard" for support of the nonprofit community in this region and beyond."
-Jodi Button, Vice President of Community Impact and Development, The Montgomery County Foundation, Inc.